| | |
| --- | --- |
| potato | 1 piece |
| Sugar | 15 grams |
| shallot | 10gram |
| ginger | 10gram |
| garlic | 15 grams |
| onion | Half |
| Hot pepper | Two |
| Chicken leg | Two |
| Doubanjiang | 15 grams |
| ketchup | 25 grams |
| soy sauce | 15 grams |
| Soy sauce | 10gram |
| Dried chili | 10gram |
| Pepper | 5 grams |
| Thirteen incense | 2 grams |
Materials

1 Prepare the materials used.
2 Fry the potatoes until golden and remove the oil control.
3 Add a little oil to the pot, add green onion, ginger, and garlic, and fry slowly over low heat to create a fragrance.
After 4, put in tomato sauce and bean paste, fry for aroma and red oil.
5Put in the chili section and saute the peppercorns until fragrant.
Add 750 grams of water to a 6 pot
7 Add all seasonings to the pot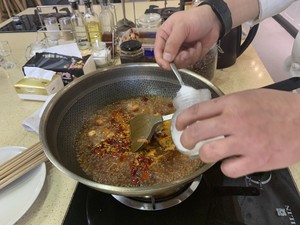 8 After the water is boiled, add the chicken thighs and cook until they are cooked.
9 Turn to medium-low heat and simmer for about 10 minutes, then add the fried potatoes and cook for about 5 minutes.
Add the hot peppers to the 10 high heat, stir-fry the onions, and make the soup rich.
11Finally, you can install it.
The practice of Xinjiang large plate chicken