Cold Beef Xiaomei Edition


Made with Xiaomei, a very classic dish, no fumes and no choking.
Materials

| | |
| --- | --- |
| Beef tenderloin | 1000 grams |
| Salad oil | 140 grams |
| garlic | 1 head |
| Ginger | 20 grams |
| Pepper | 10gram |
| soy sauce | 50g |
| Soy sauce | 20 grams |
| crystal sugar | 20 grams |
| Cooking wine | 50g |
| Five spice powder | 1/4 spoon |
| Dried chili cut into sections | 50g |
How to eat cold beef Xiaomei version

Cut the beef tenderloin into long strips and put it in a net bag, put a few slices of ginger, pass the beef with minced water, set 5 minutes/50 degrees/speed 5, and wash the beef. (1000 grams of beef is a bit too much and can be washed in two times) After taking it out, rinse with clean water and dry.
Peel 1 head of garlic, divide into mixing bowl, set 2 seconds/reverse 5 to peel. Use chopsticks to pick out the garlic skin.
Add ginger, set 5 minutes/speed, chop the ginger garlic, and scrape it into the bottom of the pot with a spatula.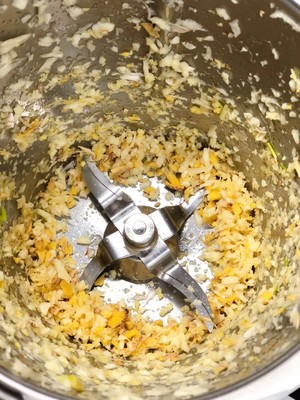 Pour in salad oil, peppercorns, set 5 minutes/V/inverted spoon. (From this step, the measuring cup lid is not covered throughout the process)
Add beef, light soy sauce, dark soy sauce, rock sugar, cooking wine, set 20 minutes/V/reverse spoon
Add dried chili, five-spice powder, set 10 minutes/V/reverse spoon (set the time according to your favorite taste)
Serve it on a plate and let it cool to taste better.
Tips
1. Cut beef strips thicker
2. Buy dried chili that is fragrant but not spicy, you can adjust the amount of chili appropriately by yourself
3. From step 4 onwards, do not cover the measuring cup lid.
4. All the ingredients can be halved, so there is no need to reduce the time.